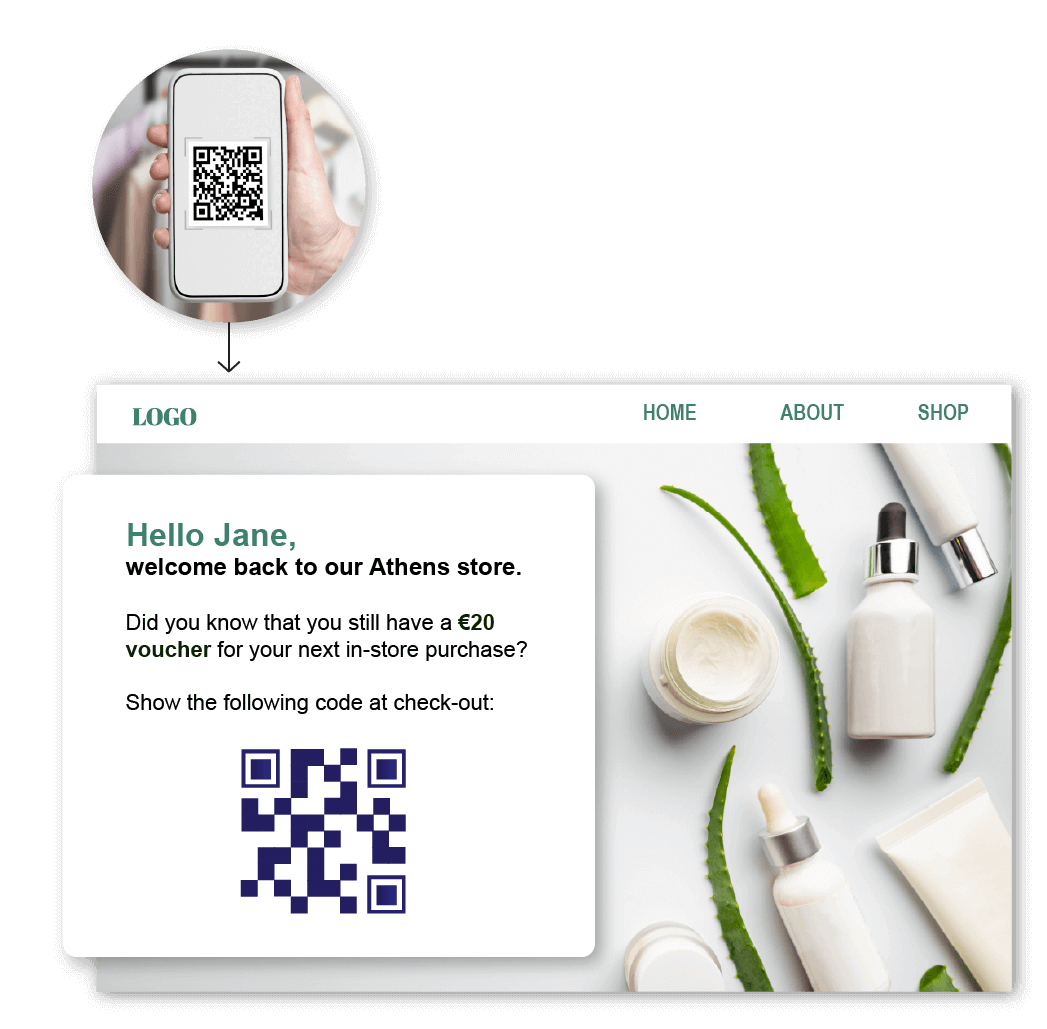 Build an integrated omnichannel customer experience.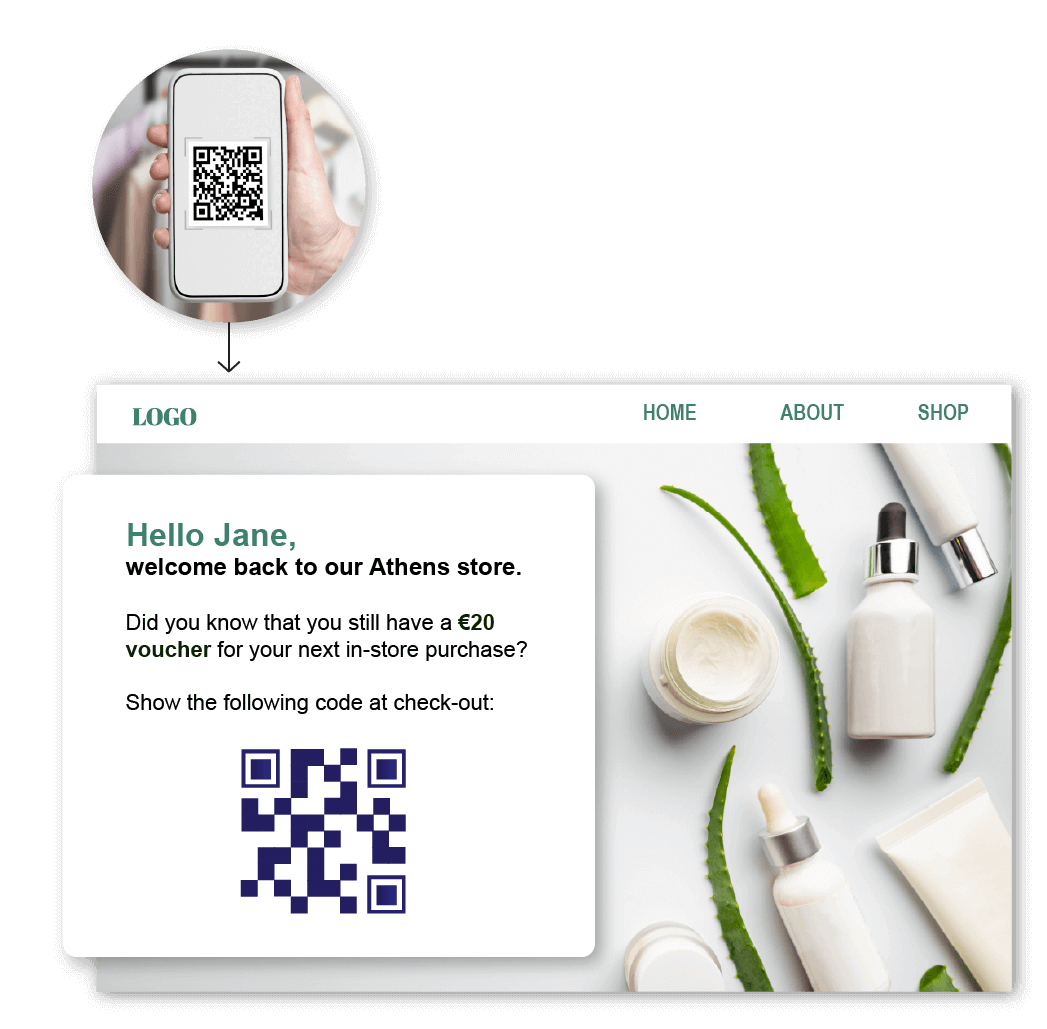 Not your standard QR code
A typical QR code scan performs a single function - retrieving a webpage URL.
ContactPigeon's patented 2-Way QR integration allows users to have more varied, personalized interactions unique to each customer profile. The system verifies between existing or new profiles, thus retrieving relevant promotional content according to the occasion.
Unified digital and physical touchpoints
Whenever someone scans the QR code, we track all the relevant physical information, including the scanning device, location, IP network, and all the subsequent activities online. Thus you will have all visitor data, both online and offline, unified into a single-view profile.
Benefits of 2-Way QR code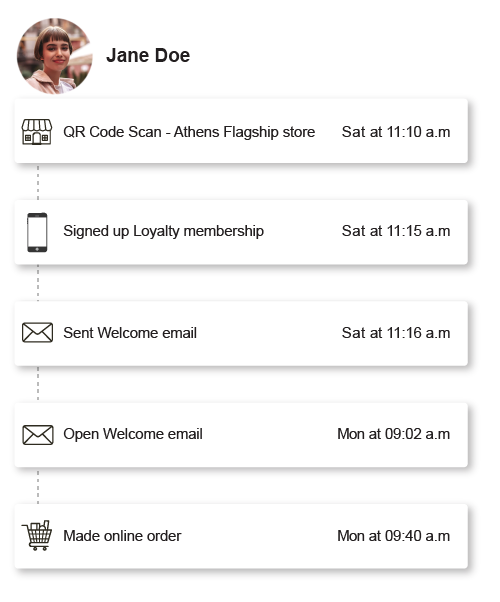 QR code may not be a new concept but there are always new ways to improve the typical QR code with our patented 2-Way QR integration. Some of the benefits include but are not limited to the following.
&nbsp Facilitates digitalization in store
&nbsp Allows customers to get instant access to product info directly on their mobile devices
&nbsp Aids in the customer data collection process in-store
&nbsp Improves personalized customer engagements (e.g., triggered survey after an store-visit)
&nbsp Supports gamification of in-store experiences
&nbsp Customers already familiar with how QR code works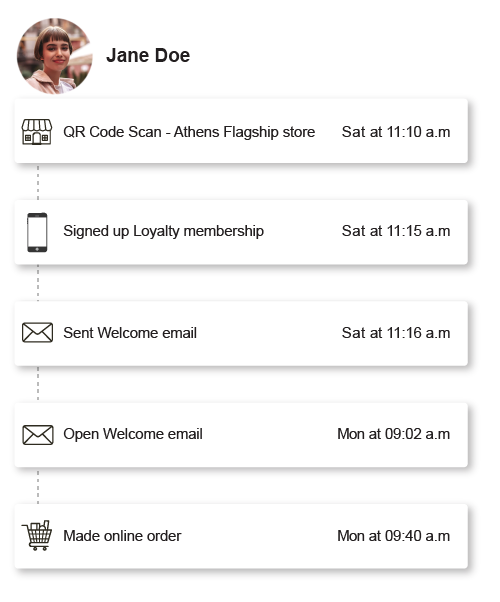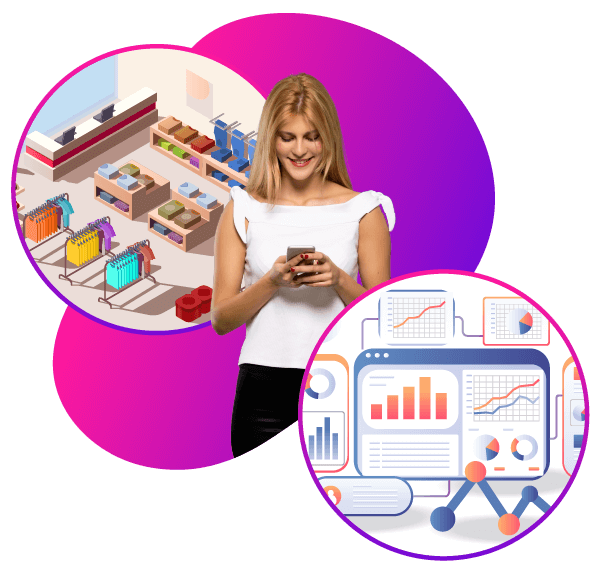 Smart omnichannel integrations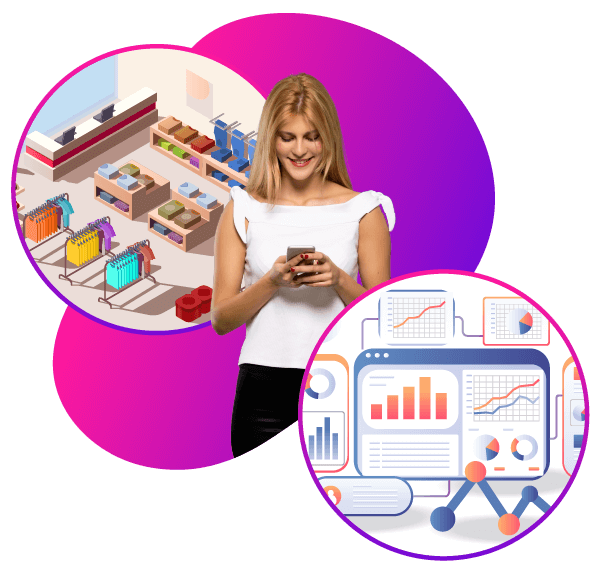 Track physical activities with Cisco Meraki
This innovation integration tracks customer interactions for subsequent store visits and has the ability to identify and match the users' mobile devices while monitoring offline activities.
By combining QR codes with Merakis, retailer can:
&nbsp Trigger profile-based product recommendations
&nbsp Retarget via digital campaigns post visit
&nbsp Generate personalized offers
Access customer service with Samaritan chat
Allow customers to reach customer service online wherever assistance is needed - whether it is after seeing an advertisement on a billboard or in-front of a storefront. The best part is that with ContactPigeon's QR code, chat agents can immediately tell where the visitor is located upon scanning the QR code.
Learn more about Samaritan Omnichannel Chat >
2-Way QR Codes Use Cases Scenarios in Retail
&nbsp A new shopper scans the in-store 2-Way code
&nbsp ContactPigeon recognizes that it is an unknown visitor, and redirects the shopper to a sign-up page with a 20% offer for the first purchase
&nbsp Shopper signs up to get the personal offer code, but does not apply the code in-store nor online
&nbsp 2 days later, the shopper receives a reminder of the offer along with recommended products based on the QR location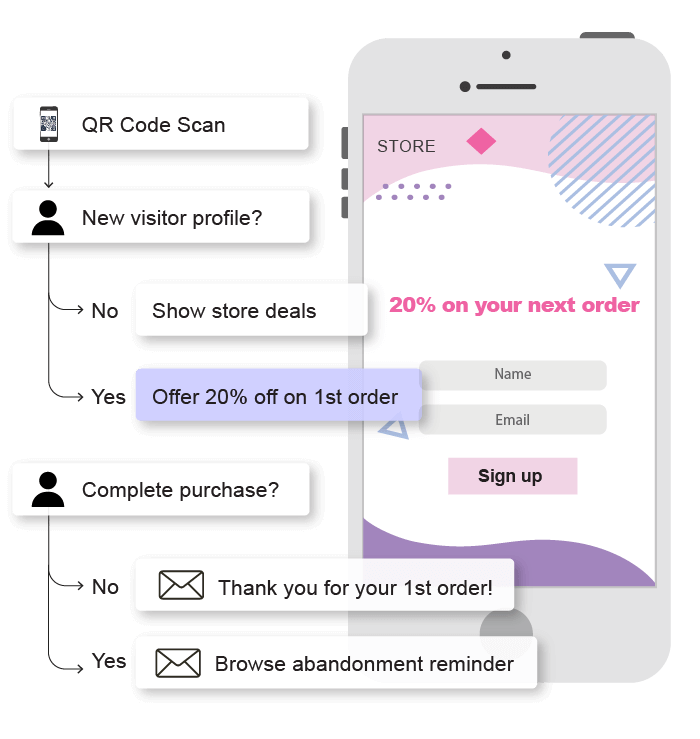 &nbsp A returning shopper scans the 2-Way QR tag on a t-shirt in a fashion retail shop
&nbsp She is directed to a page with product details on the dress, along with styling tips and instagram tags from other shoppers
&nbsp She also gets complementary product recommendations based on her previous purchases and browsing history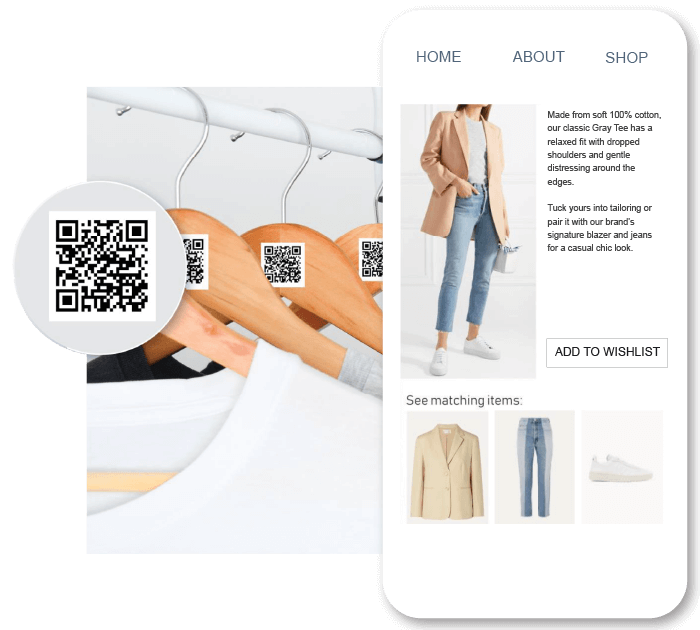 &nbspA shopper finds and scans the 2-Way QR code on a magazine Ad
&nbspContactPigeon recognizes the shopper and notices that it's her birthday month
&nbspRedirects the shopper to a dynamic landing page with a limited-time, happy birthday offer
&nbspThe shopper visits the online store to make a purchase and redeems the birthday offer at the checkout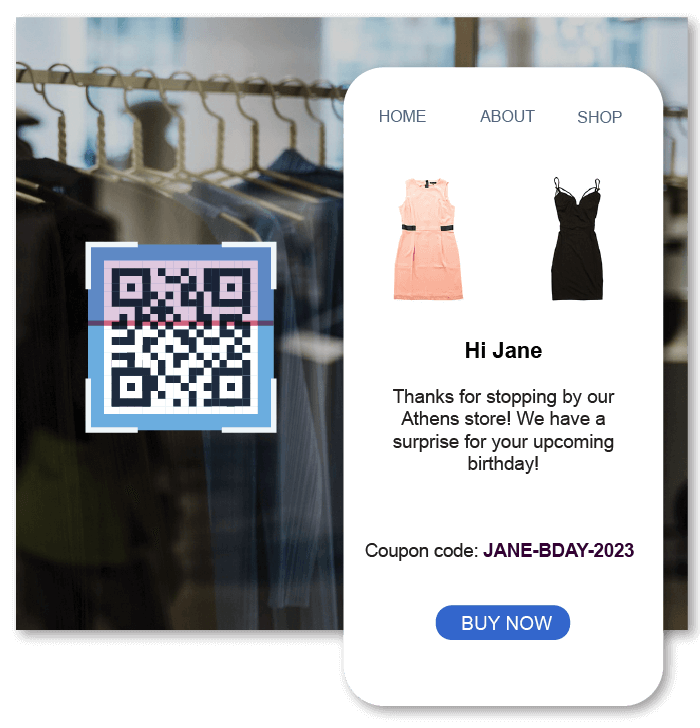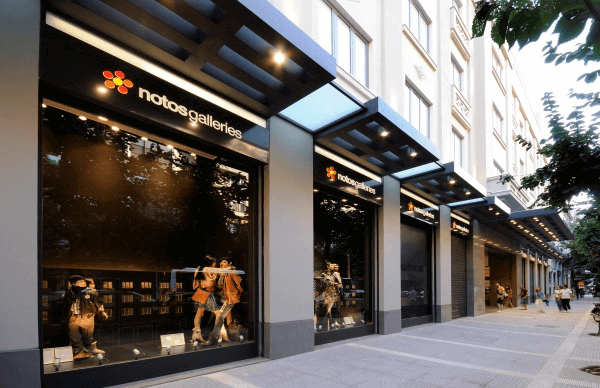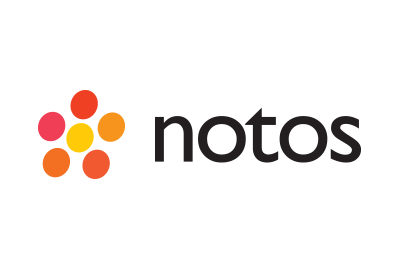 We appreciate ContactPigeon's features, and make the most of them with excellent results. Recently, we added QR codes in our physical stores as an additonal channel!
Anastasia D.
PR & Social Media Specialist, Notos Greece
FAQ about 2-Way QR Codes for Retail
What is a 2-way QR code?
A 2-Way QR Code differs from a typical QR Code. With ContactPigeon's 2-Way QR Code integration, you will be able to connect the physical foot traffic with your eCommerce activities and create unified customer journeys. After scanning a 2-Way QR Code, known visitors will be redirected to dynamic landing pages, relevant to their historical data. For new clients, the system will create a new profile and start building the profile with customer insights and purchase activities.
How can 2-Way QR codes be used in retail?
ContactPigeon's 2-Way QR Codes patented integration can be used in your brand's physical stores with the aim of connecting the offline with the online world. This feature can be combined with a variety of different channels, like landing pages, push notifications, email campaigns, or dynamic pop-ups. For optimal results, the retailers can showcase the QR Codes in visible spots and urge the in-store customers to scan and be part of the experience.
What are the key benefits for a retailer using QR codes
Key Benefit 1: Create a bridge between the online customer journey and the brick-and-mortar foot traffic and find the missing piece of the marketing puzzle.
Key Benefit 2: Encourage customers to visit the online store or return to the physical store with targeted promotions, increasing the performance of both locations.
Key Benefit 3: Streamline the shopping experience and reach customers in different touchpoints at the right time with the right message.
Key Benefit 4: Collect data through different online and offline sources for enriched customer profiles, more advanced segments and personalized interactions.
Key Benefit 5: Create a true, omnichannel experience that will boost customer loyalty, and brand awareness to maximize revenue.
Can ContactPigeon help my company with the integration?
ContactPigeon's team will help you every step of the way, from the integration to the correct use of the customer engagement platform. After the subscription, you will be assigned to a team of specialists that will guide you through, schedule frequent meetings and monitor your progress.
2-Way QR Code Resources for Retailers
Find useful resources like retail guides and best practices for adopting ominichannel marketing.
Add smart QR codes to your marketing mix.
And discover how 2-Way QR codes can improve your customer experience.