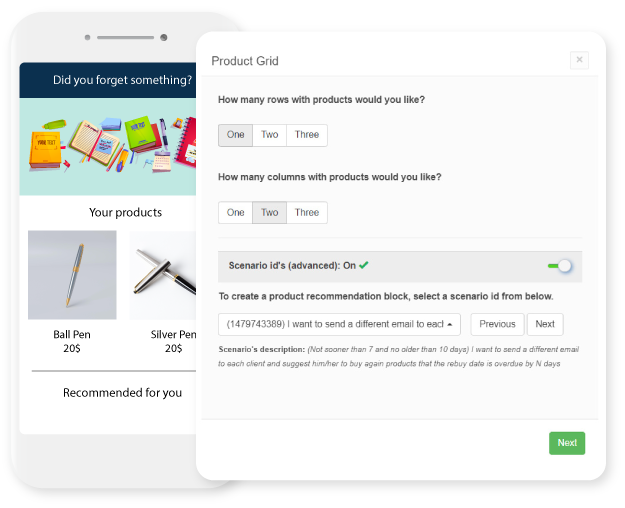 Targeted email campaigns with dynamic content for easy wins.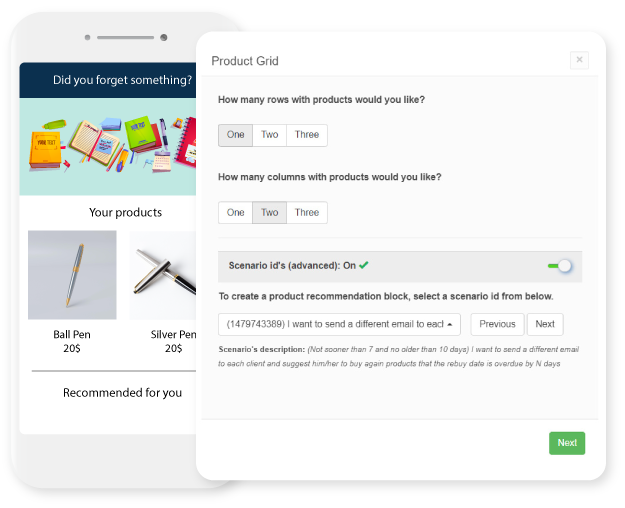 Personalization at scale
Whether you're sending out 1,000 or 10,000 emails, ContactPigeon helps you transform your newsletters into powerful, personal one-on-one message
Easy to use dynamic tags
Customize templates according to your customers' data. From customer names right down to personalized coupon offers.
Smart product recommendations
Use dynamic product suggestions for cross or upselling based on your customer's past purchases, browsing history, and interests.
Learn more about Personalization best practices >
Simple drag and drop campaign builder.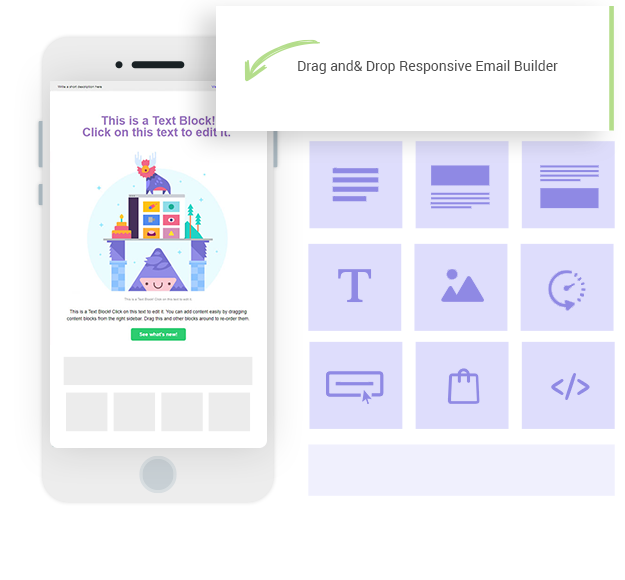 Email campaigns that turns leads into customers
Boost your brand's awareness and conversions with ContactPigeon's user-friendly drag & drop email builder. It's easy to design email campaigns with built-in eCommerce elements like product grids and offers, so you can be up and converting in no time.
No HTML needed
You don't have to be a dev wizard or know HTML to send a successful marketing campaign. Just drag and drop blocks using ContactPigeon's intuitive email editor.
Mobile-optimized responsive designs
Send email campaigns that compliment your brand and style, while looking awesome on all devices and browsers.
Advanced options for tech-savvy users
Want something completely unique. You can customize your email campaigns with HTML, CSS, and liquid language. Truly optimize every aspect of your campaign message to best suit your needs.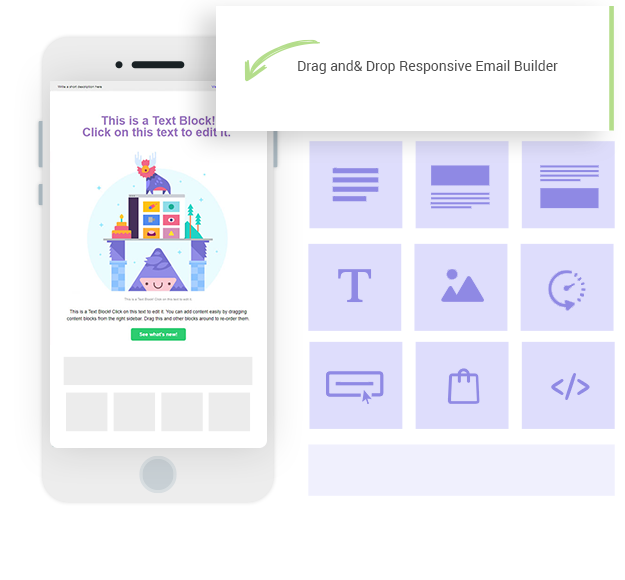 Rich template library with hundreds of free email templates.
Save time creating responsive email campaigns by using one of ContactPigeon's hundreds of pre-built email templates. Our free email templates help you look like a pro, creating brand consistency while letting your uniqueness shine throughout every email campaign.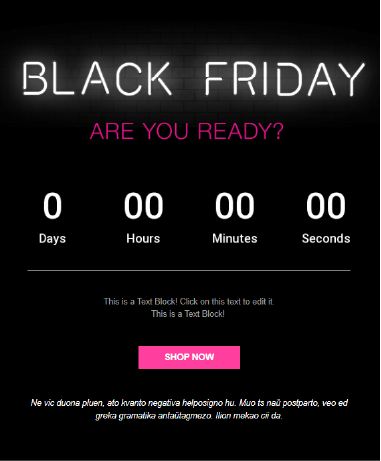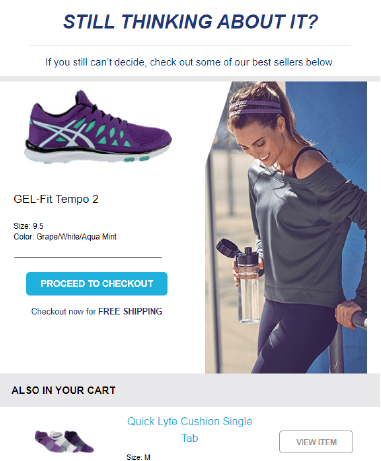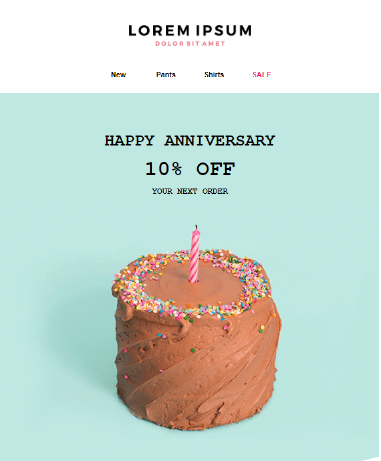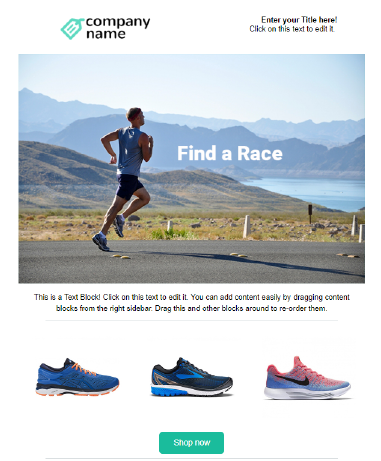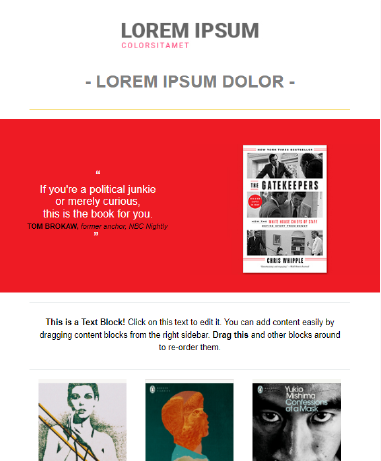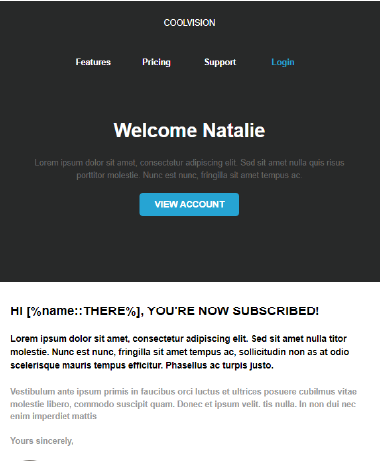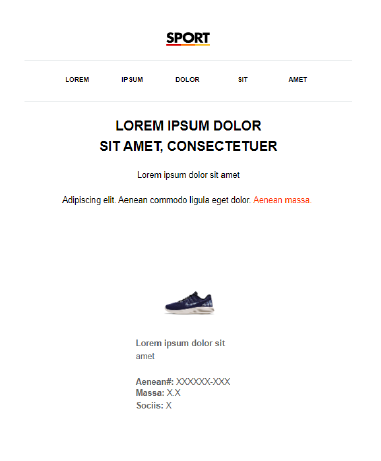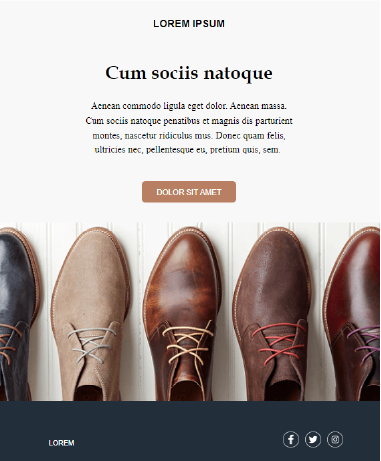 Scale your brand with email campaigns that covert.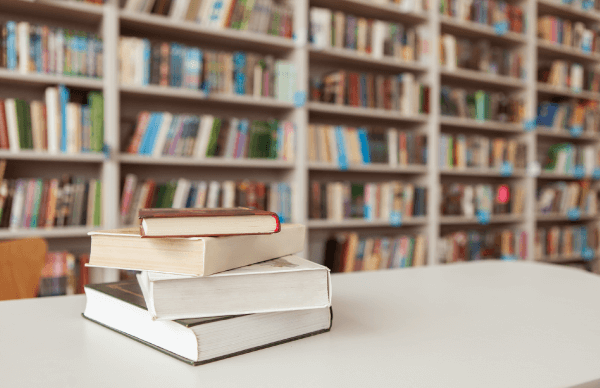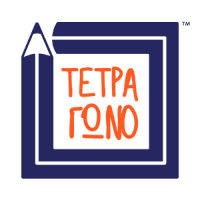 A Sophisticated tool that boosts email conversions and sales. A must-have for every eCommerce business.
Apostolis L.
Ecommerce Manager, Tetragono Bookstore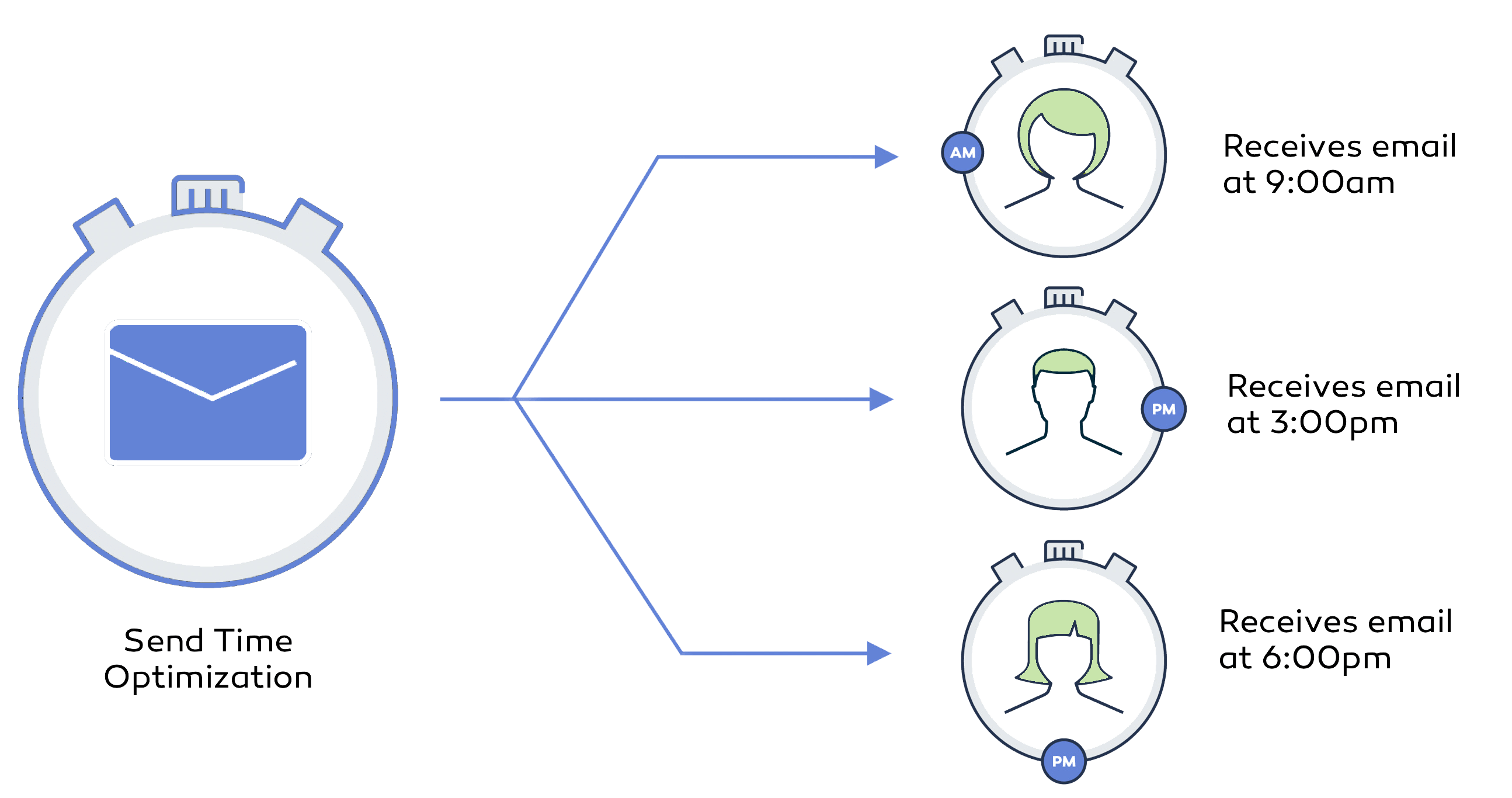 Optimized email delivery time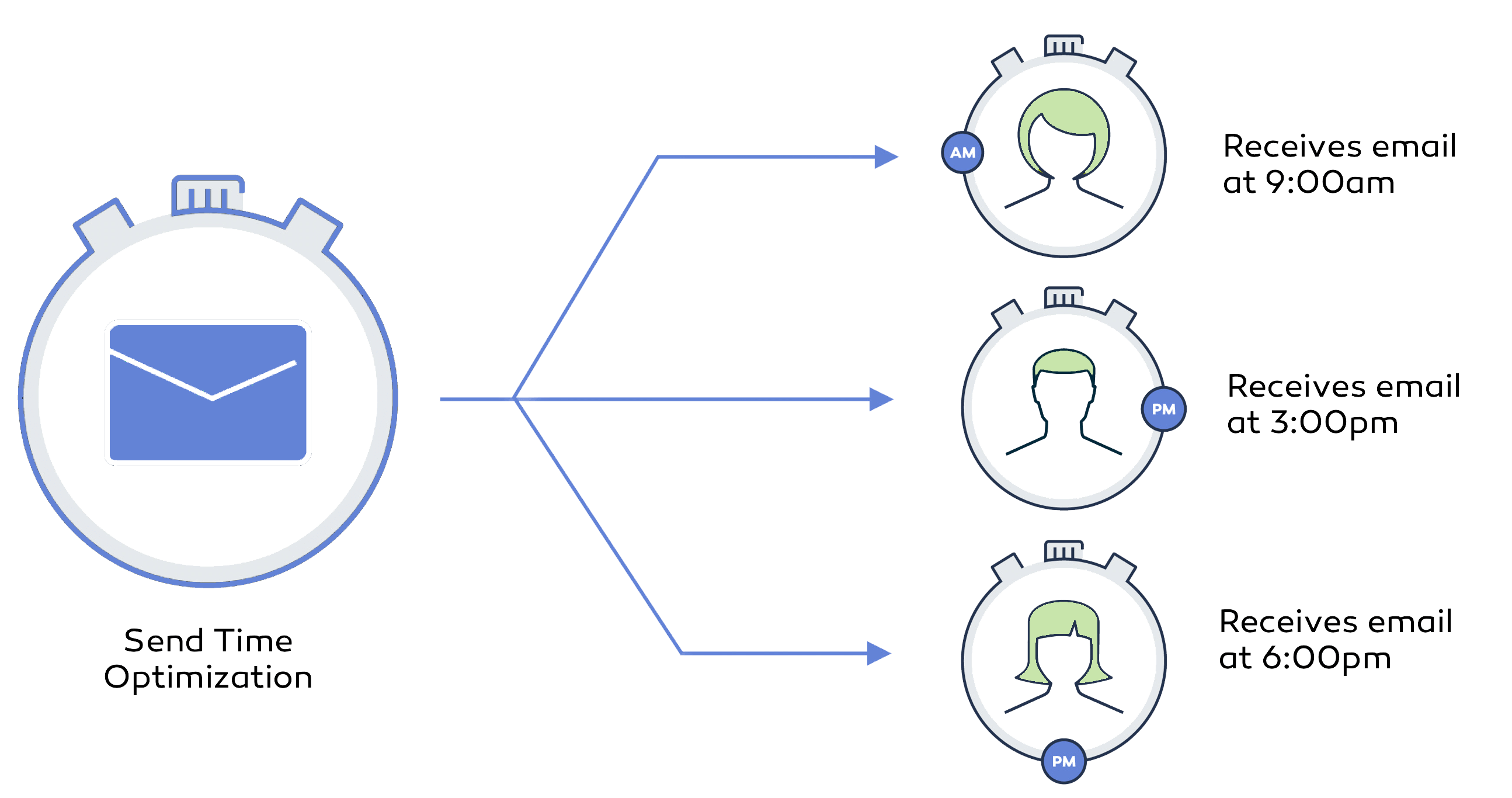 AI-powered email conversions with predictive campaign delivery
Not all of your recipients operate on the same routine or time zone. Our predictive email delivery model optimizes campaign delivery time for higher open rates.
Individually optimized for every recipient
Sent time is optimized for each recipient based on past open patterns. Simply schedule your campaign, and let us figure out the best time to reach each inbox.
Email open rate booster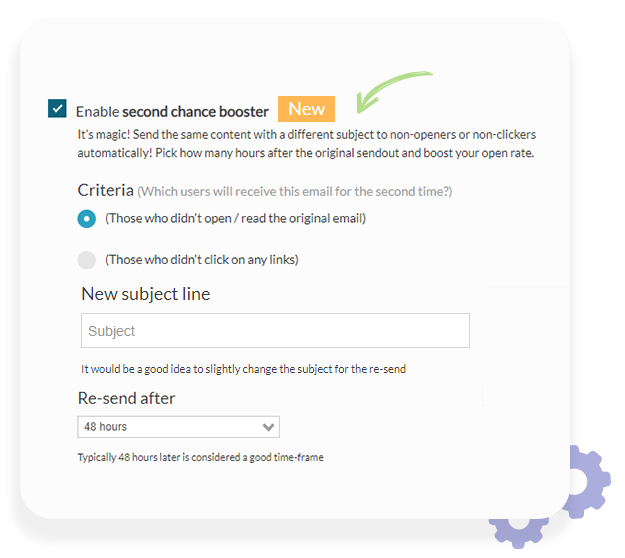 Give your email campaigns a second chance to engage
Some of your audience may miss your beautifully crafted email campaign on first send. Give it another chance by automatically sending it again after a period of inactivity.
Define second attempt criteria
Customize how the second attempt may look like. You can set a brand new subject for the recipients who have not opened or clicked within a defined period of time and see your open rates grow with each campaign.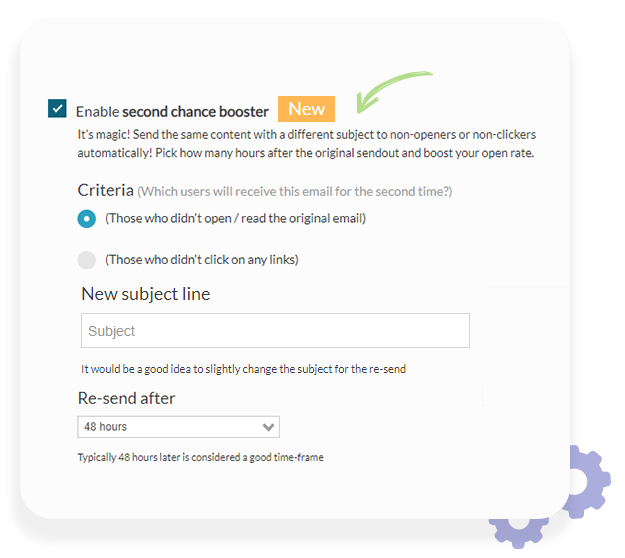 Email Campaigns Use Cases Designed for eCommerce
Discover some examples of email campaigns that drive sales for our clients.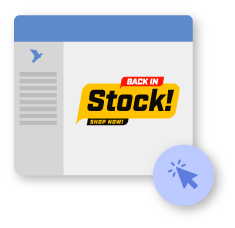 Emails with automated triggers
Different circumstances require different triggers, but we have you covered. No matter the case, your campaigns will be automatically sent to your audiences.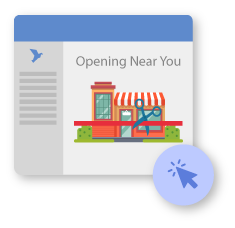 Behavior-based, personalized emails to specific segments
Divide and conquer your long lists of customers and send them personalized emails that they will find actually useful. Do not bombard aimlessly, but make every interaction count.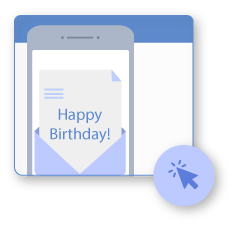 Perfectly-timed emails
Schedule your campaigns with automated workflows that celebrate milestones, holidays, and birthdays. Stay in touch with your audience and do not hesitate to offer a personal touch.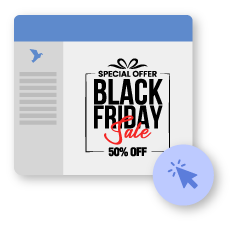 Bulk email campaigns
Feel free to contact your subscribers all at once. Notify your audience about your latest news or products fast and easily.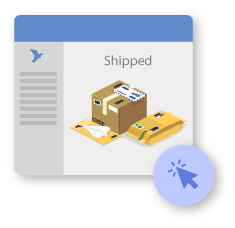 Transactional emails
Reassure your customers about their orders and their purchases with on-spot transactional emails. Deliver the best customer experience.
FAQ about ContactPigeon's email marketing campaigns
What is a personalized email campaign?
Compared to an ordinary email newsletter, a personalized email contains dynamically generated content based on customers' profiles. This type of personalization can range from the inclusion of the customer's name within the email to displaying product info related to the customer's past browsing patterns.
ContactPigeon tracks which products your customers see to use this data for hyper-personalized campaigns that will maximize your email conversions.
How do I create a segmented email campaign?
ContactPigeon also offers a powerful dynamic segmentation tool which, if used correctly, can help any business skyrocket its conversions.
After you've defined your segments, you can designate which email templates should be sent to each respective customer segment.
If you need assistance setting segmented email campaigns up, just contact your dedicated eCommerce expert that ContactPigeon offers.
How do I keep track of my email marketing campaigns?
In order to analyze the results of your email marketing campaigns, you need to make sure that you are monitoring the correct metrics. The most important KPIs include click-through rate (CTR), conversion rate, and bounce rate. The CTR refers is the percentage of recipients that actually engaged with our email and clicked on a link that was included. The conversion rate is the percentage of customers who saw your campaign, clicked on it, and actually interacted with it according to your call to action. Lastly, the bounce rate is the number of people that never actually received your email campaign.
How can I improve the performance of my email campaigns?
To better understand how your email marketing campaigns need improving, you need to track your existing metrics and set clear goals. Later, with a data-driven strategy, you can implement changes to your campaigns based on the latest eCommerce trends and best practices. ContactPigeon's highly skilled Customer Success Consultants can help you decode the required KPIs and help you design a strategy that will reflect your goals and your needs.
Insightful Email Marketing Resources for Retailers
Find useful resources like eCommerce guides, best practices and case studies of successful enterprises.
Want to grow your email marketing results?
We work along side your marketing team to improve campaign outcomes.